HRH Princess Haya Bint Al Hussein, visited Addenbrooke's Hospital in Cambridge as part of a fact-finding initiative to visit hospitals across Europe to assist in the development of the Al Jalila Children's Specialty Hospital in Dubai.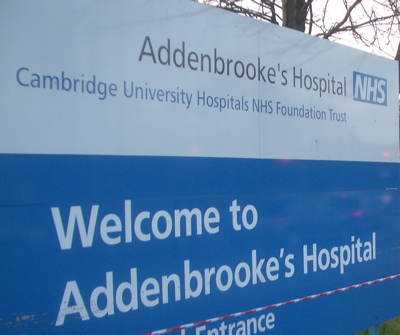 The Al Jalila Children's Specialty Hospital in Dubai will be the first dedicated children's hospital in the United Arab Emirates. Princess Haya, during Her visit to Addenbrooke's, discussed best practice in patient care, the fundamental importance of research initiatives and of first-rate medical education as a means to achieve excellence in paediatric healthcare services.
Accompanied by Dr. Mary Archer, Chairman, Cambridge University Hospitals NHS Foundation Trust, Dr. Gareth Goodier, Chief Executive, Cambridge University Hospitals and other specialized doctors, Princess Haya toured the clinical areas of the hospital including the Paediatric Intensive Care Unit (PICU), the Paediatric Oncology Ward and the Neurosciences Critical Care Unit.
"It was a pleasure and an honour to show HRH Princess Haya around Addenbrooke's," stated Dr. Archer after the tour. "She visited us to see the way we work and how we put patient care and safety at the heart of all we do. Princess Haya was very interested that we are the only hospital in the region to have a dedicated cancer unit for babies and children up to the age of 16 and was keen to visit our Paediatric Intensive Care Unit and our neurosurgical facilities. We have our own plans for a children's hospital, so being able to share knowledge and experience with the team in Dubai will help both teams make their future projects even more successful."
The campus will provide room for extensive new clinical facilities including Papworth Hospital as well as expanded services for maternity, neurosciences and cancer.
Furthermore, the design of the hospital takes into account energy saving strategies to facilitate reductions in the global energy consumption. The Al Jalila Children's Specialty Hospital will also have a dedicated Helipad directly connected with the Emergency Department to accommodate any type of paediatric emergencies excluding Road Traffic Accidents.